Source
Ecclesiastes 11:7
Light is sweet, and it pleases the eyes to see the sun.
Still a cold day for spring in the south (or anywhere for that matter), but the sunshine today is gorgeous! It is indeed sweet and warms my body and soul. It is exciting as my blog really starts to come to life and the sweet comments folks are making along the way. I feel like a child at a birthday party just getting more and more excited as the time goes by. Whether it grows or not, I am thankful for the opportunity to share my faith and thoughts on my heart and use it as a way to journal these days of my life.
One important memory I want to record involves our never-ending hectic life these days. It seems like we never have a dull moment in the hustle and bustle, but my heart feels much lighter as God is showing me which parts are worth the hassle and which parts to release. Most importantly are the times with my sweet family. I just knew when my handsome little boy was born and introduced us into the world that is rambunctious/curious/loud/loving-boy, he would cause our first visit to the emergency room. To my surprise, his sister decided to slam each eyebrow into furniture 3 months apart with two stitches in one and four stitches in the other. It was a fairly easy introduction into emergency room preparedness with kids. Little did I know, my little 22 months old darling was going to keep my insurance company hopping with claims.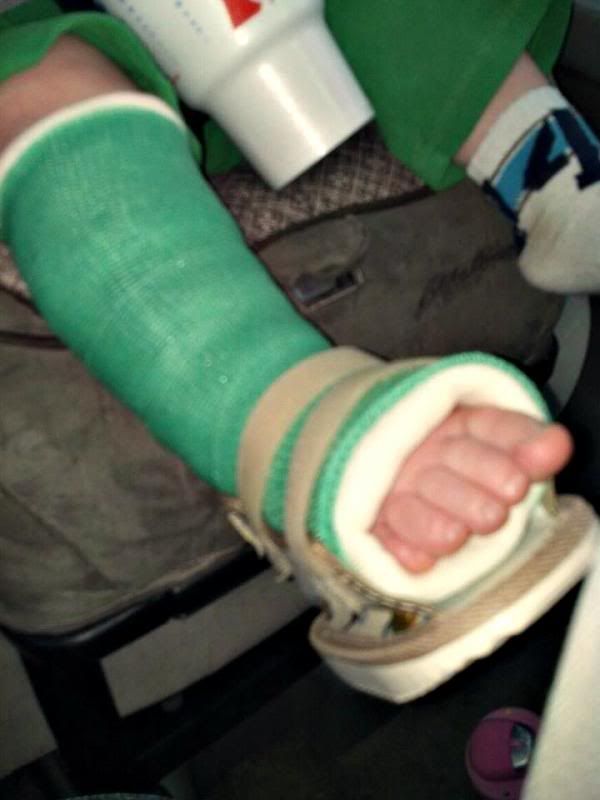 I know the picture quality is poor. Kind of hard to get a good picture of a wiggling boy. The fourth jump from the toddler bed to the floor resulted in a twisted ankle leading to a nice limp. The x-rays do not show a clear break, but doctor said it could show itself in a week to ten days with kids' bones. So, we have a pretty green cast on Mr. Rambunctious just in time for Easter. The good news is he has the sweetest nurse in his sister to take care of him.
The muscles we use the most are often the most strong. I believe God is giving me a good patience work-out this week.