Coloring was always something I loved doing as a child. I would sit for hours and entertain myself with a coloring book and a box of Crayolas. My daughter loves it as much as I did. There is something therapeutic about taking that crisp, white paper and gradually filling it full of bright hues of your choosing.
This past weekend, while I had dirty dishes in my sink, a flower bed in desperate need of attention and ironing that was not going to do itself... I colored. I sat with my daughter and filled in the sections on the paper with the color she told me matched the number. We talked about what we will do on our beach vacation in a few weeks. We laughed as we sat side by side.
A memory was made in a four year old's mind as well as one for her mother.
My heart and mind were at peace when I stopped to cherish this moment with her.
I love this quote, and it is such a shame that I've never seen anyone credited with speaking it into existence. Our lives are always going to be filled with chaos and chores, but we can have peace in the midst of these things. We can have peace with a box of crayons and spending 10 minutes to lift up your heart with the little things that seem so small, but are such a great medicine for the tired soul.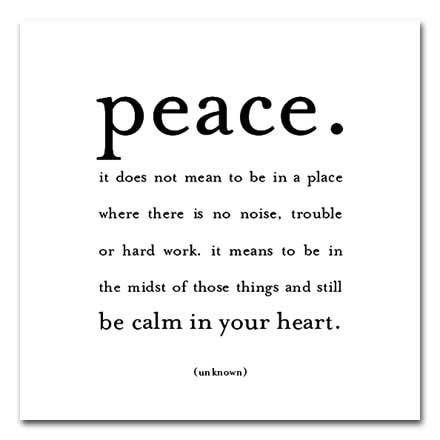 Great peace have they who love your law, and nothing can make them stumble. Psalm 119:165